Browndeer Press, Harcourt Brace & Co. • 1997• 48 pages • ISBN: 978-0-6705-8848-0
Peter only wants milk, Lucy insists on pink lemonade, and Jack is stuck on applesauce. Each new addition to the Peters clan brings another demand for a special dish. Mrs. Peters, loving mother that she is, does her best to fulfill each new request but the preparations get to be exhausting. It isn't until her birthday arrives that an unexpected present from her seven youngsters solves her problem and surprises them all. Marla Frazee's lively and detailed drawings of the Peters household add to the fun.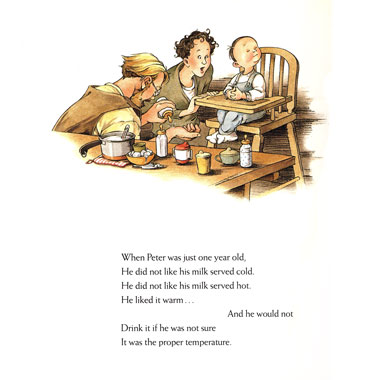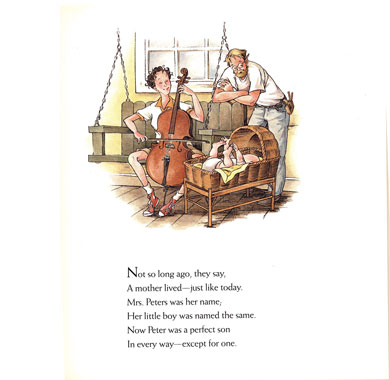 Well, I've finally done it! After much experimenting, I think I have arrived at the definitive recipe for Mrs. Peters' Birthday Cake, incorporating all the required ingredients.
My thanks to the many readers who sent in requests and often offered their suggestions and even their own recipes. Since I wanted this to be a "from scratch" cake, cake or lemonade mixes were ruled out. When I recently gave the cake to a household of Seven Silly Eaters afficianados for testing, I was amazed to hear that the sixteen-year-old proclaimed it was the best cake she had ever eaten! What do you think? 
Mrs. Peters' Birthday Cake
½ pound (2 sticks) sweet butter, softened
1 ½ cup granulated sugar
3 eggs
2 cups unbleached all-purpose flour, sifted
1 cup oatmeal, quick or regular
½ teaspoon baking soda
½ teaspoon salt
½ cup milk
1 tablespoon lemon juice
¾ cup unsweetened applesauce
4 drops red food coloring
Preheat oven to 325 degrees F. Grease 10-inch tube pan.
Warm milk to 70 degrees and add 1 tablespoon of the lemon juice. Let sit 10 minutes until milk has thickened.
Cream butter and sugar until light and fluffy. Beat in eggs one at a time, blending well.
Sift together flour, baking soda, and salt. Stir in oatmeal.
Blend applesauce with thickened milk and red food coloring.
Stir dry ingredients into egg mixture alternately with the milk/applesauce mixture, beginning and ending with dry ingredients.
Pour batter into prepared tube pan. Set on the middle rack of the oven and bake for 1 hour and 5 minutes, or until cake pulls away from sides of pan and a tester inserted in the center comes out clean.
Cool cake in the pan on a rack for 10 minutes. Remove cake from pan.
Makes 8 to 10 portions