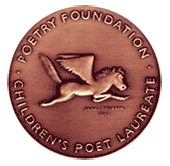 In October 2008 I received the Children's Poet Laureate award and will serve for two years. During that time I will be doing what I've been doing for over fifty years, but more so and with a much wider forum! As I see it, my mission is to spread the delight of children's poetry and poetry in general, to be a sort of Pied Piper for children's poetry. While continuing to write and recite my own poems, I will also be presenting the work of other wonderful children's poets in talks and readings and videos. Check out my upcoming fall appearances in the "News" section, including Laureate readings at the Lab School of the University of Chicago.
Here is the Poetry Foundation announcement of the award.
And here is a piece by Charles Storch that appeared in the Chicago Tribune.
Another article, by Michael Atkinson.
An audio interview with Curtis Fox.
During my time as Children's Poet Laureate, I will be making an ongoing series of short videos for the Poetry Foundation, reading the poems of some outstanding children's poets as well as some of my own. Here are the first three:
A group of poems from Laughing Time by William Jay Smith.
Some poems by Edward Lear.
In this one I'm reading one of my own early books, I Like Old Clothes.